To decontaminate patient rooms and other care areas, Dartmouth-Hitchcock Medical Center's (DHMC) Environmental Services Department (EVS) recently began using the Bioquell system, which is effective against the spores from C. difficile bacteria. After patient rooms are cleaned by EVS, Bioquell's hydrogen peroxide vapor technology works to kill residual bacteria, viruses and fungi on all surfaces—including medical equipment—without leaving a residue or causing damage to sensitive electronics.
The Bioquell machine is operated by Keith Brayton, a Bioquell employee who reports to Jay Welenc, director of Environmental and Waste Management Services. "This is an addition to our EVS toolshed so that we can keep our patients safe," says Welenc. "The Bioquell system's hydrogen peroxide mist vapor reaches all surfaces of the room better and gets into cracks and crevices."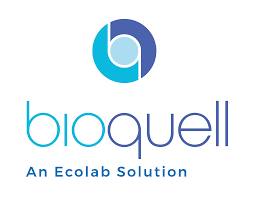 Michael Calderwood, MD, MPH, who leads the hospital's C. difficile Prevention Committee, says the hospital chose this system because of the positive experience of other hospitals and the multiple published studies indicating its effectiveness in decreasing the spread of C. difficile. "When paired with good terminal room cleaning by EVS, the Bioquell system enhances our ability to decontaminate rooms between patients and to clean other areas such as operating rooms, recovery rooms and inpatient storage areas," says Calderwood. "It is important to note, though, that the success of this new technology will depend on the ability to hold open rooms for Bioquell decontamination before a new patient is roomed."
DHMC's Patient Placement Department directs Brayton to the rooms that need to be cleaned following a patient's discharge. After EVS team members clean the room with standard disinfectants, Brayton wheels the Bioquell system into the room and puts it to work, a cleaning process that takes about two hours.
"It's a concentrated hydrogen peroxide that's heated into a dry vapor," says Brayton. "It floods the room and covers all the surfaces, attaching itself to the spores and breaking them down before it then gets filtered back out of the room. Once I'm done they can bring the next patient into the room."
Brayton does Bioquell cleanings Monday through Friday from 12 noon to 8 pm. "He's not just cleaning patient rooms with the Bioquell system. Keith will be cleaning ORs and some procedure rooms regularly, and he has cleaned rooms in the Emergency Department," says Welenc, who notes that other departments should feel free to contact him or Brayton to be added to the Bioquell cleaning schedule.
Here are the steps you can take to have a room treated with Bioquell and the preparations required:
To schedule a patient room for Bioquell cleaning after a C. difficile patient has been discharged, contact Patient Flow at 5-5987.
To schedule a clinic room, peri-op area, etc., for Bioquell cleaning following care for a C. difficile patient, contact EVS at 5-5912.
Rooms must first be cleaned by EVS before they can be treated with Bioquell.
Prior to Bioquell cleaning, linens should be removed from the bed or left off. EVS will make the bed once Bioquell treatment is finished.
After a patient room has been cleaned by EVS and prior to Bioquell cleaning, move equipment/supplies into the patient's room so they will also be treated with Bioquell. Glucometers are the only piece of equipment that must be removed from the room.◦Items that can be treated with Bioquell include cardiac chairs, EKG machines, workstations/computers on wheels, vitals machines, pens/pencils, etc.
EVS guidelines about the Bioquell system are being added to Policy Tech, which will outline pre-cleaning roles and responsibilities. Your unit managers will notify you when they are uploaded to Policy Tech.